Running a multi-author WordPress website comes with a different set of challenges compared to a a single author WordPress blog.
You'll need to plan content, create an editorial workflow, monitor user activity, and make sure that your website is running at peak performance.
This sounds like a lot of work, but luckily there are some really helpful plugins that can make it all go smoothly.
In this article, we will show you the best plugins to efficiently manage multi-author WordPress blogs. These plugins will make your job easier and help authors on your website to be more productive.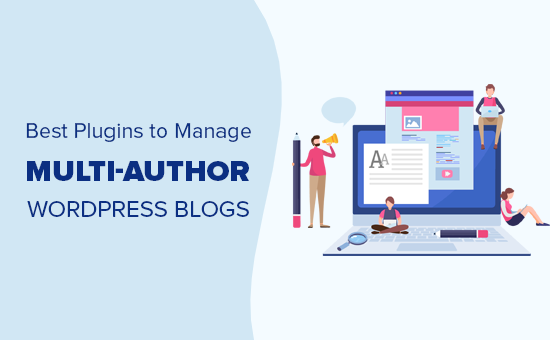 1. PublishPress

PublishPress is the best publishing tool kit for any type of content-rich websites and a must-have plugin for multi-author WordPress blogs
It allows you to create and manage an editorial calendar inside WordPress, followup progress on drafts and article ideas, manage authors, set up custom notifications, and more.
The plugin comes with companion addons which give you powerful set of tools. These addons include Capability Manager Enhanced (to customize user permissions), Revisions (to manage revisions in WordPress), and Press Permit which lets you control viewing permissions on WordPress.
This incredibly powerful plugin helps you every step of the way, from content planning to publishing, while ensuring that nothing slips through the cracks. For more details, see our guide on how to improve your editorial workflow in WordPress.
Bonus: See our guide on how to do keyword research to find blog post ideas.
2. WPForms

WPForms is the best WordPress contact form plugin on the market. It allows you to easily build forms using a simple drag and drop form builder.
Their Pro plan also comes with user registration, custom login form, and post-submission addons. This allows you to accept posts on your website without allowing anyone accesses to your WordPress admin area,
For details, see our step by step guide on how to allow users to submit posts to your WordPress website.
3. MemberPress
If you want to build a website where only paid members can submit posts, then you'll love MemberPress. It is the best WordPress membership plugin and allows you to easily sell subscriptions and memberships plans.
It allows you to easily restrict access to any content based on the user's membership level. You can also use it with WPForms to create front-end post submission pages.
For detailed instructions, see our guide on how to easily create a membership website in WordPress.
4. TranslatePress
If you run a multilingual WordPress website, then TranslatePress helps you easily manage translations on your website.
It allows you and other authors on your website to easily translate content on your website with a live preview. You can also use it to translate WordPress themes and plugins as well.
For step by step details, see our tutorial on how to easily translate your WordPress website
Alternatives: WPML, Polylang
5. Sucuri
Sucuri is the best WordPress security plugin to protect your website against unauthorized access, brute force attacks, and hacking.
As a multi-author WordPress site, more people have access to the admin area of your WordPress website. While making sure that your authors can write posts, you would also want to make sure that your admin area is safe and secure.
Sucuri performs regular security checkups and acts as a website firewall. This allows malicious attacks to be blocked even before they reach your website.
6. Pre-Publish Checklist

As the administrator of a multi-author WordPress website, you would want to ensure that all authors follow the editorial process you have set up for your website.
Pre-Publish Checklist helps you add a checklist to the post editor, which allows authors to check everything on the list before publishing or submitting it for review.
7. Simple Local Avatars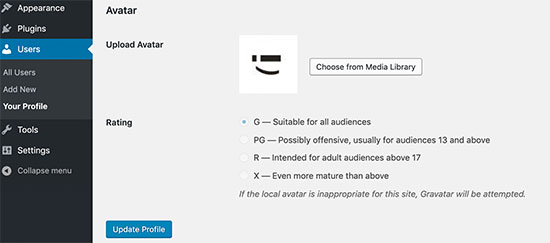 WordPress uses Gravatar to display user avatars in comments and in user profiles. However, some of your users may not have gravatar setup for their email address, or they may simply want to use some other picture on their author profile.
Simple Local Avatars plugin allows users on your WordPress site to upload their own author photo by editing their profile.
8. MonsterInsights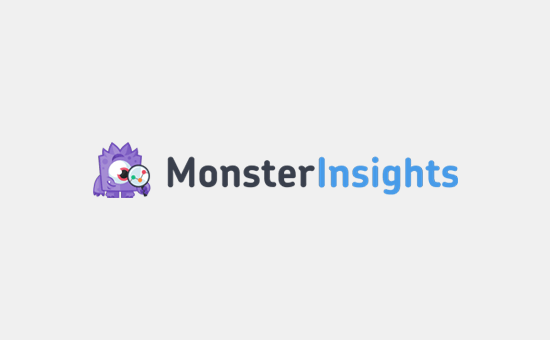 MonsterInsights is the best Google Analytics plugin for WordPress. It allows you to easily install Google Analytics in WordPress.
It also shows where your users are coming from, what content is doing well, what users do when viewing your website, and more. This data provides you insights to make an effective content strategy for your website.
Bonus: See the top marketing metrics you must track on all WordPress sites.
9. WP Revisions Control
WordPress automatically saves drafts as revisions. This helps you easily undo changes and revert back to an earlier draft of your article. However, if you run a large multi-author WordPress site then these revisions add up to your WordPress database size.
WP Revisions Control helps you set a number of revisions that WordPress should keep. After that number, WordPress will automatically delete the oldest revision. You can also delete all revisions for a specific post if you want.
To learn more, see our beginner's guide to WordPress post revisions with step by step instructions on how to use revisions on your blog.
10. Author Avatars List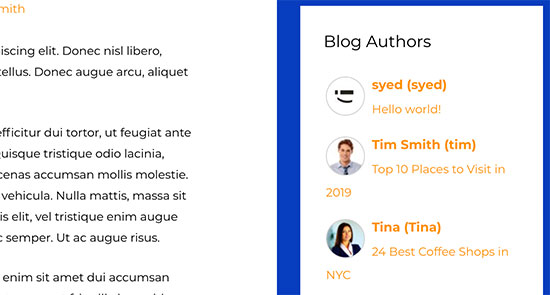 An easy way to attract more authors to write for your website is by showcasing authors prominently on your website. One way to do this is by displaying a list of blog authors.
Author Avatars List plugin allows you to easily add a blog authors list anywhere on your site. It comes with a sidebar widget and you can also use the shortcode to easily add it to a post or page.
11. Adminimize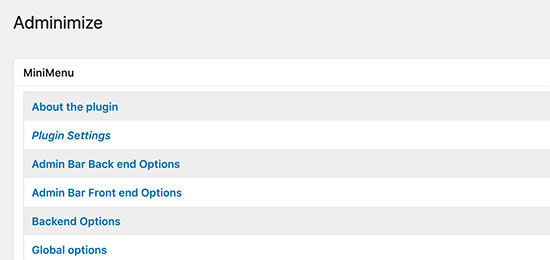 Adminimize gives admins full control over what users can or cannot see inside the WordPress admin area. Admins of a multi-author blog can use it to disable user access to unnecessary sections.
This enables them to provide a lean and distraction-free writing space for the authors. For more details, see our tutorial on how to hide unnecessary items from WordPress admin.
12. User Notes

User notes allow you to leave notes on user profiles. These notes can only be seen by admins and can be very helpful and may serve as a reminder tool.
For example, if an author is not following the deadlines you can add a note to remind yourself that this particular author is a bit careless with the deadlines.
13. Simple Author Box

By default, most modern WordPress themes can display an author's profile pic along with their bio below the article. However, some are not very good at it or you way want to get a bit more control over author bio box.
Simple Author Box helps you easily add an author bio box below articles. You can customize it to match your theme colors, configure what you want to show, and add social sharing buttons with it.
14. Edit Author Slug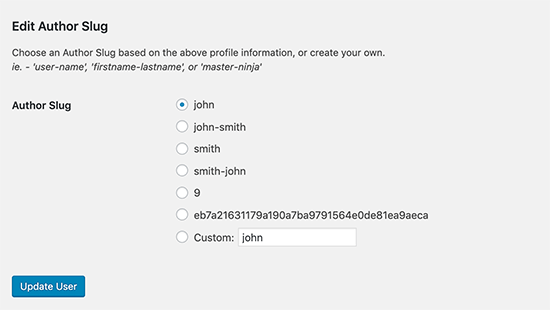 WordPress comes with SEO friendly URL structure which allows you to choose URL slugs for your posts and pages. However, there is no option to do so for an author page.
Edit Author Slug plugin allows you to do that. You can simply edit a user profile and change the author URL slug. It also allows you to change the author base.
For more information, see our detailed tutorial on how to change author URL slug and base in WordPress.
15. User Submitted Posts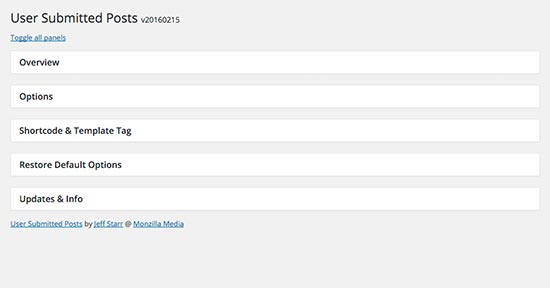 User Submitted Posts plugin does just what it says, it allows users to submit posts to your website without login or creating an account. This allows you to manage user-submitted content without managing user accounts or giving users access to admin area.
For details, see our guide on how to allow users to submit posts to your WordPress site.
16. Theme My Login

Theme My Login allows you to create custom WordPress login page for your website. You can also create a front-end registration and profile editing page.
Basically, users will be able to login without having access to the admin area of your website. Theme My Login can be used with other plugins to create a front-end editing experience for your authors.
17. Two Factor
Two Factor plugin allows you to easily add Two Factor authentication to your website. This adds an extra step to your WordPress login screen and making it difficult for hackers to gain access to your website.
You can generate a one-time password using an app like LastPass Authenticator to finish the login process. For details, see our guide on how to add two-factor authentication in WordPress.
18. WP Security Audit Log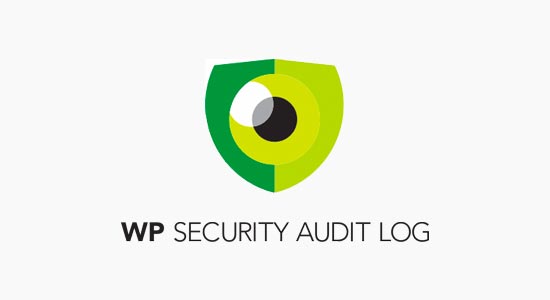 WP Security Audit Log helps you keep a log of all things happening on your website. This allows you to see when each user logged in, what they did, and all other website activties.
This helps you find an imposter, catch mistakes, block hacking attempts, and more. For details, see our guide on how to how to monitor user activity on your WordPress site.
19. WP Email Users

WP Email Users plugin allows you to quickly send an email to all authors and registered users on your website. This comes in handy if you want to communicate important announcements, notifications, and site related updates.
You'll need WP Mail SMTP plugin and a proper SMTP service provider to ensure that your emails reach user's inbox.
20. Emergency Password Reset
If you are worried that the security of your WordPress site is compromised, then you need to immediately change all WordPress passwords. Now if you run a multi-author WordPress website, then you need to make sure that all user passwords are changed as well.
Emergency Password Reset plugin allows you to reset all user passwords in WordPress with a single click. It also sends an email to all your users with a link to set new passwords.
For details, see our guide on how to reset passwords for all users in WordPress.
21. User Blocker
User Blocker plugin allows you to easily block an author on your WordPress website without changing their author information or deleting their account.
This helps you make sure that content on your website is not affected while making sure that unwanted users can no longer access the WordPress admin area.
For more information, see our step by step guide on how to block a WordPress user without deleting their account.
That's all for now.
We hope this article helped you find useful plugins to manage your multi-author WordPress blogs. You may also want to see our proven tips to quickly increase your blog traffic and our ultimate guide on how to speed up your WordPress site.
If you liked this article, then please subscribe to our YouTube Channel for WordPress video tutorials. You can also find us on Twitter and Facebook.